We are extremely excited for another PulmPEEPs Roundtable table discussion today. We have spent multiple episodes talking about different aspects of ARDS and respiratory failure. Today, multiple expert guests return, as well as a new guest to the show, to discuss the future of ARDS research. This is a can't miss discussion that is so jam-packed with pearls you'll have to listen twice!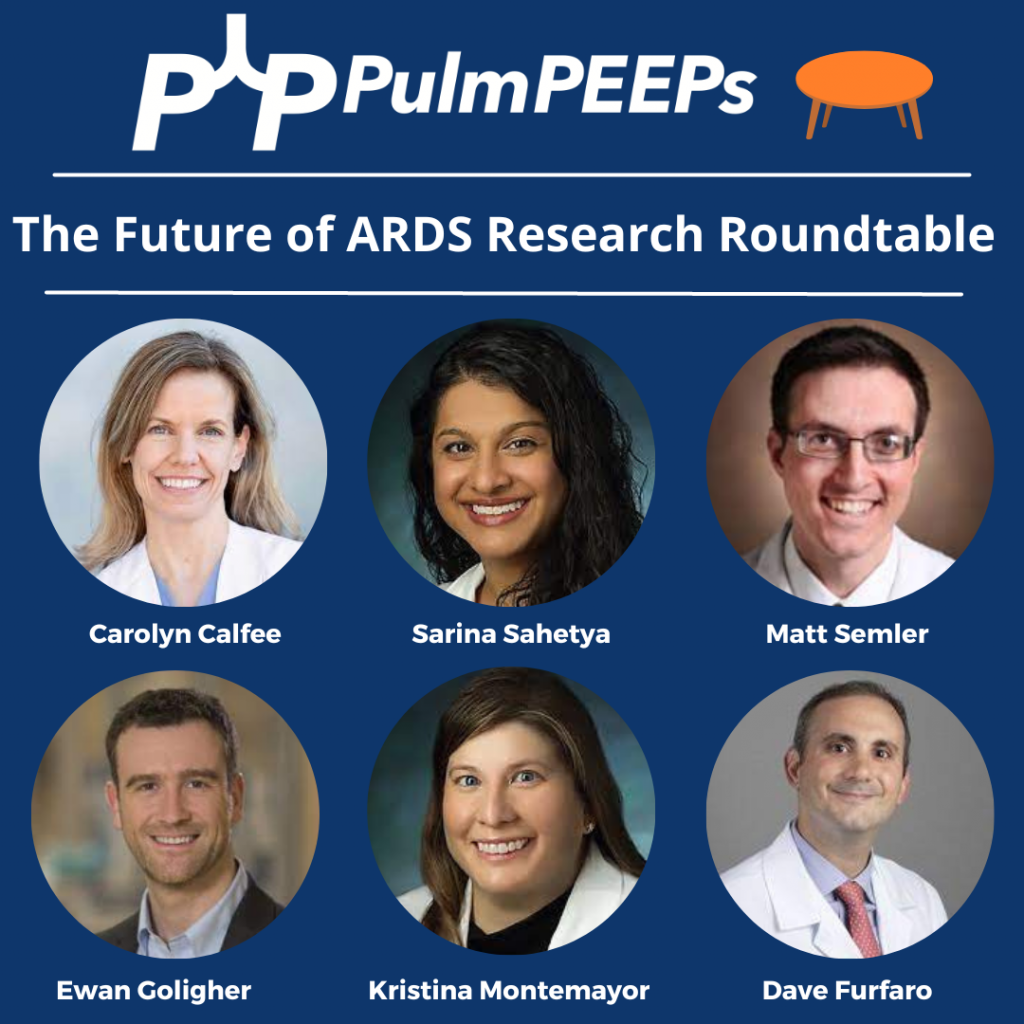 Meet Our Guests
Carolyn Calfee is a Professor of Medicine and Anesthesia at the University of California, San Francisco. She is a world-renowned ARDS researcher and has authored multiple landmark studies in the field. She previously joined us for a discussion on ARDS precision medicine and phenotypes.
Ewan Goligher is an Assistant Professor at the University of Toronto and University Health Network. He has published many practice-changing papers in ARDS. These have included prospective studies and some fantastic retrospective analyses that have fundamentally shaped our interpretation of trial results.  He previously came on the show discussing lung and diaphragm protection.
Sarina Sahetya is an Assistant Professor of Medicine at Johns Hopkins. She is a funded researcher in ARDS and respiratory physiology and has published multiple studies on lung protection and ARDS. She last helped us understand how to titrate PEEP in ARDS.
Matthew Semler is an Assistant Professor of Medicine and Biomedical Informatics at Vanderbilt University Medical Center, where he is also the Associate MICU Director and the co-director of the Inpatient Division of the Learning Healthcare System at Vanderbilt. Through his role as Chair of the Steering Committee for the Pragmatic Critical Care Research Group, he has helped lead more than two dozen randomized trials leading to multiple high-impact publications.
Podcast: Play in new window | Download
Subscribe: Apple Podcasts | Google Podcasts | Spotify | Amazon Music | Android | iHeartRadio | Stitcher | Podcast Index | RSS | More