This week on Pulm PEEPs we are thrilled to share a collaboration with the American Thoracic Society Assembly on Respiratory Cell & Molecular Biology. We are joined by two expert members of the ATS RCMB Assembly who have done basic and translational research in respiratory biology and lung disease. We explore the topic of Short Telomeres and their role in lung disease. With the annual ATS Conference just around the corner, this is a great intro episode for everyone from aspiring researchers and clinical pulmonologists.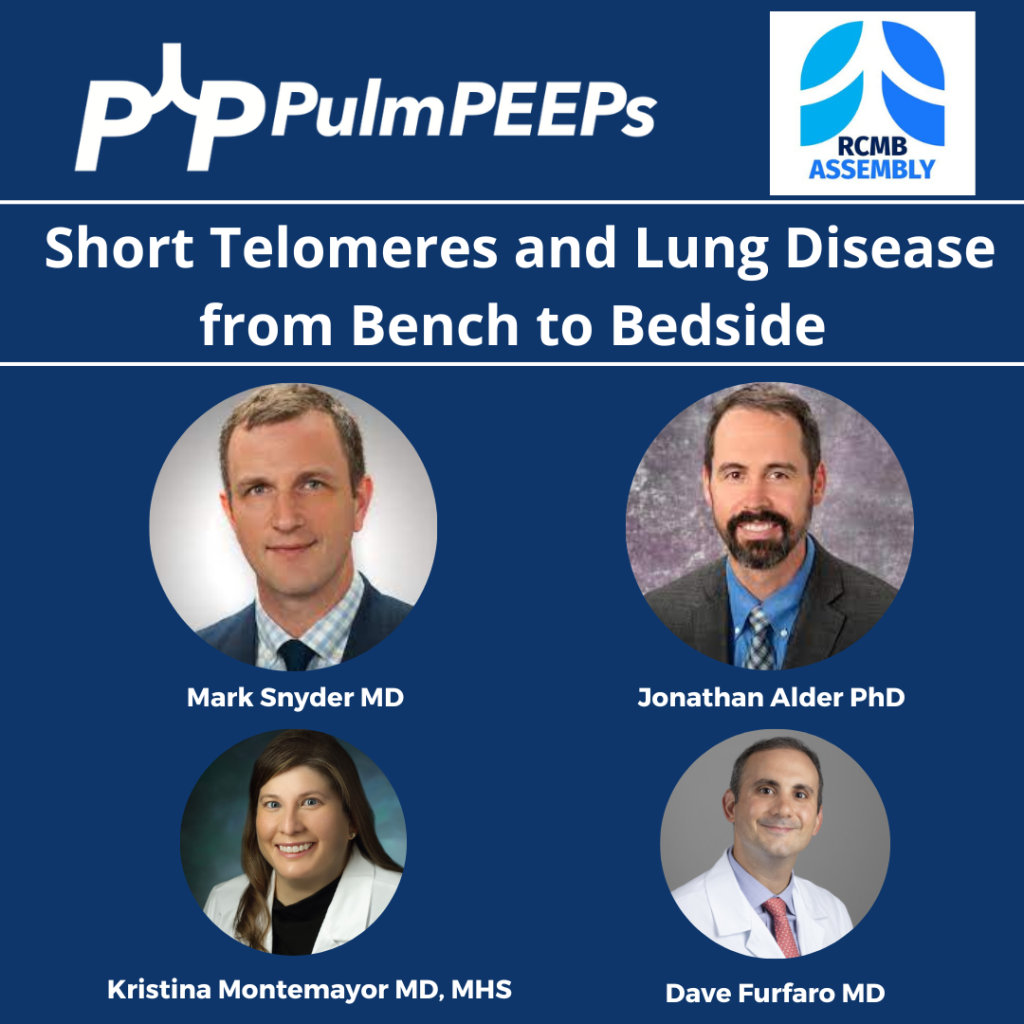 Meet The Guests
Mark Snyder is an Assistant Professor of Medicine at the University of Pittsburgh Medical Center, and a member of the Graduate Program in Microbiology and Immunology there. He does research on the role of the adaptive immune system's role in chronic rejection after lung transplantation and has received both a Parker B Francis Foundation award and an NIH K23 grant for this work.
Jonathan Alder is an Assistant Professor of Medicine at the University of Pittsburgh. His research focuses on telomeres and their role in human health and disease. He is an accomplished researcher, was a Parker B Francis fellow, and now has an NIH RO1 studying Telomere-mediated Lung disease.
Further Reading and References
Alder JK, Armanios M. Telomere-mediated lung disease. Physiol Rev. 2022 Oct 1;102(4):1703-1720. doi: 10.1152/physrev.00046.2021. Epub 2022 May 9. PMID: 35532056; PMCID: PMC9306791.
Alder JK, Chen JJ, Lancaster L, Danoff S, Su SC, Cogan JD, Vulto I, Xie M, Qi X, Tuder RM, Phillips JA 3rd, Lansdorp PM, Loyd JE, Armanios MY. Short telomeres are a risk factor for idiopathic pulmonary fibrosis. Proc Natl Acad Sci U S A. 2008 Sep 2;105(35):13051-6. doi: 10.1073/pnas.0804280105. Epub 2008 Aug 27. PMID: 18753630; PMCID: PMC2529100.
Armanios MY, Chen JJ, Cogan JD, Alder JK, Ingersoll RG, Markin C, Lawson WE, Xie M, Vulto I, Phillips JA 3rd, Lansdorp PM, Greider CW, Loyd JE. Telomerase mutations in families with idiopathic pulmonary fibrosis. N Engl J Med. 2007 Mar 29;356(13):1317-26. doi: 10.1056/NEJMoa066157. PMID: 17392301.
Podcast: Play in new window | Download
Subscribe: Apple Podcasts | Google Podcasts | Spotify | Amazon Music | Android | iHeartRadio | Stitcher | Podcast Index | RSS | More