Welcome back to Pulm PEEPs Fellows' Case Files series. We are traveling to the midwest to visit The Ohio State University College of Medicine and hear about another great pulmonary case.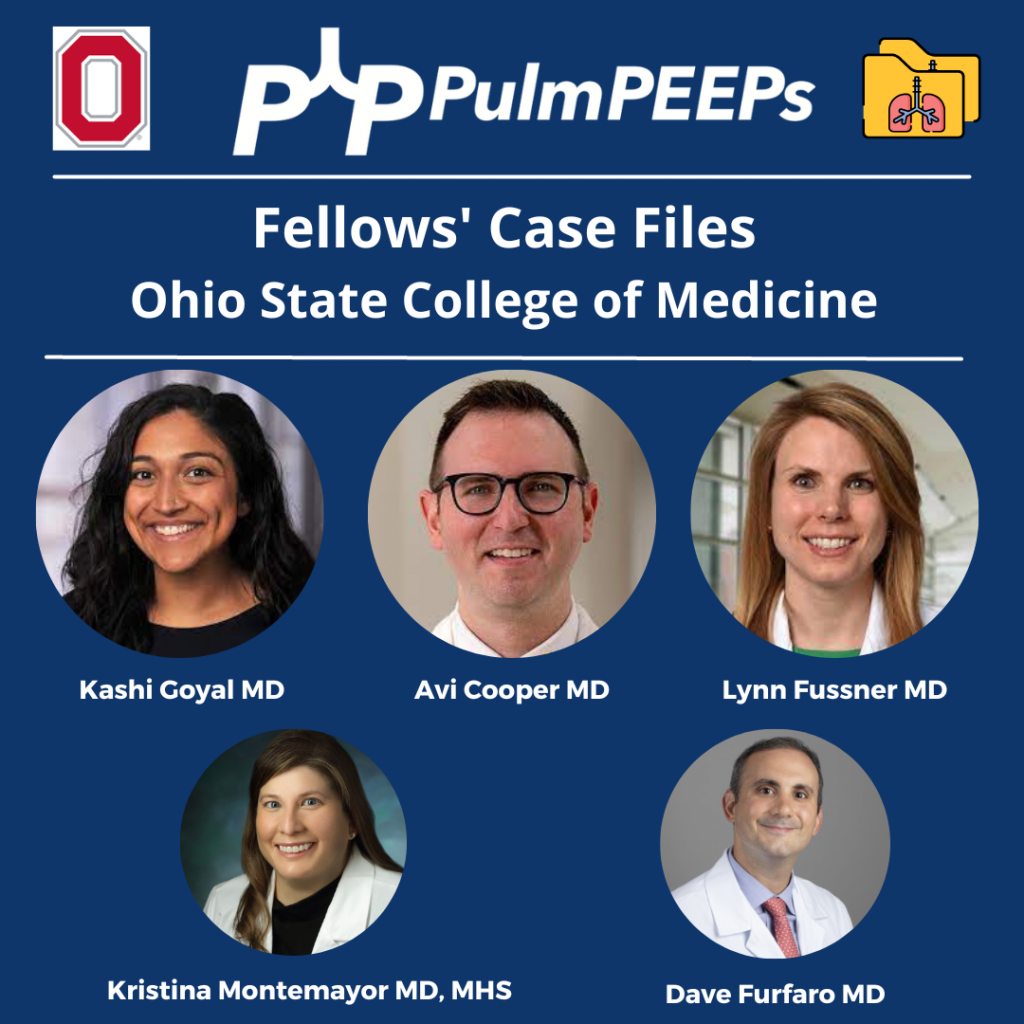 Meet Our Guests
Kashi Goyal is a second-year Pulmonary and Critical Care Fellow at The Ohio State University Wexner Medical Center. She obtained her MD at OSU, and then completed her Internal Medicine residency at Beth Israel Deaconess Medical Center. She worked as a hospitalist and educator before going back to fellowship and remains passionate about medical education.
Lynn Fussner is an Associate Professor of Internal Medicine at OSU and has been there since completing her fellowship and Post-doctorate at Mayo Clinic. In addition to her clinical work in the multidisciplinary vasculitis clinic, she is a translational researcher with a focus on inflammatory pulmonary disorders and vasculitis.
Avi Cooper is an Assistant Professor of Medicine at Ohio State University College of Medicine and the Program Director of the Pulmonary and Critical Care Fellowship. He is an Associate Editor at the Journal of Graduate Medical Education. Last but not least, he co-hosts the Curious Clinician Podcast, one of the most popular medical education podcasts.
Patient Presentation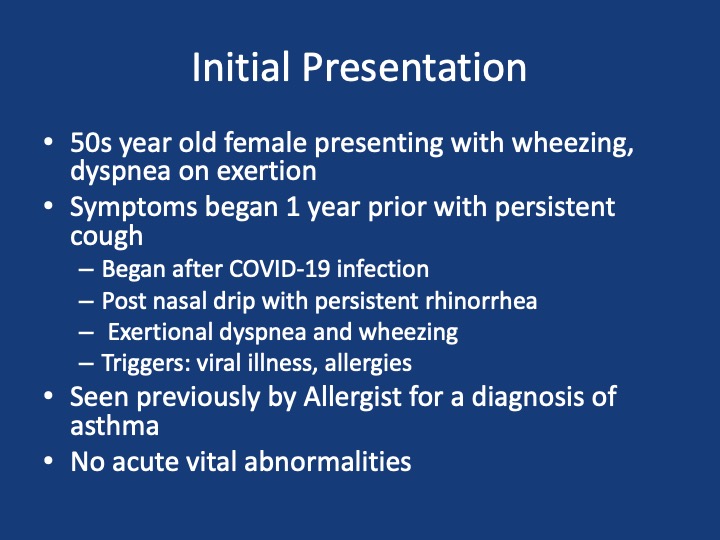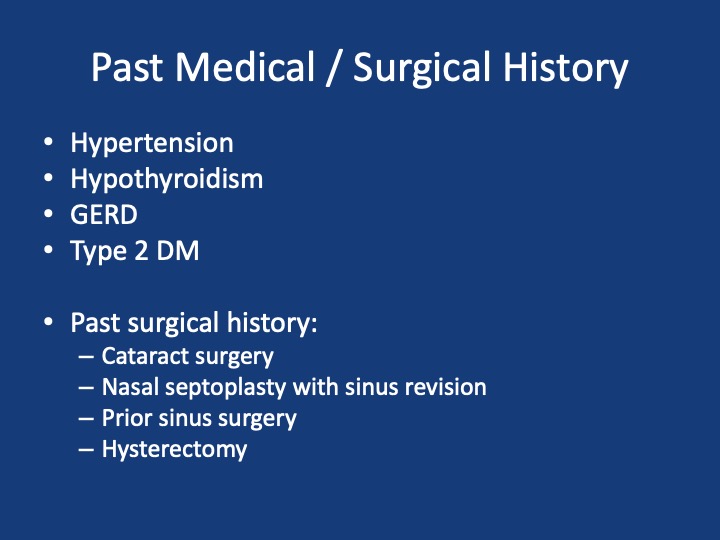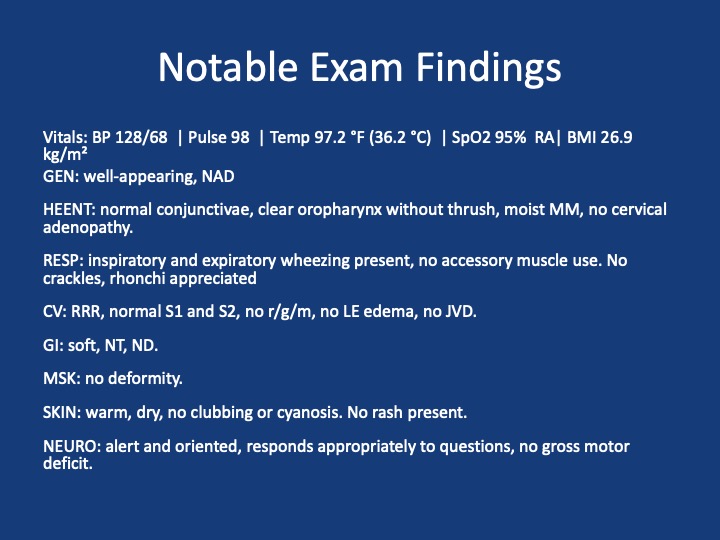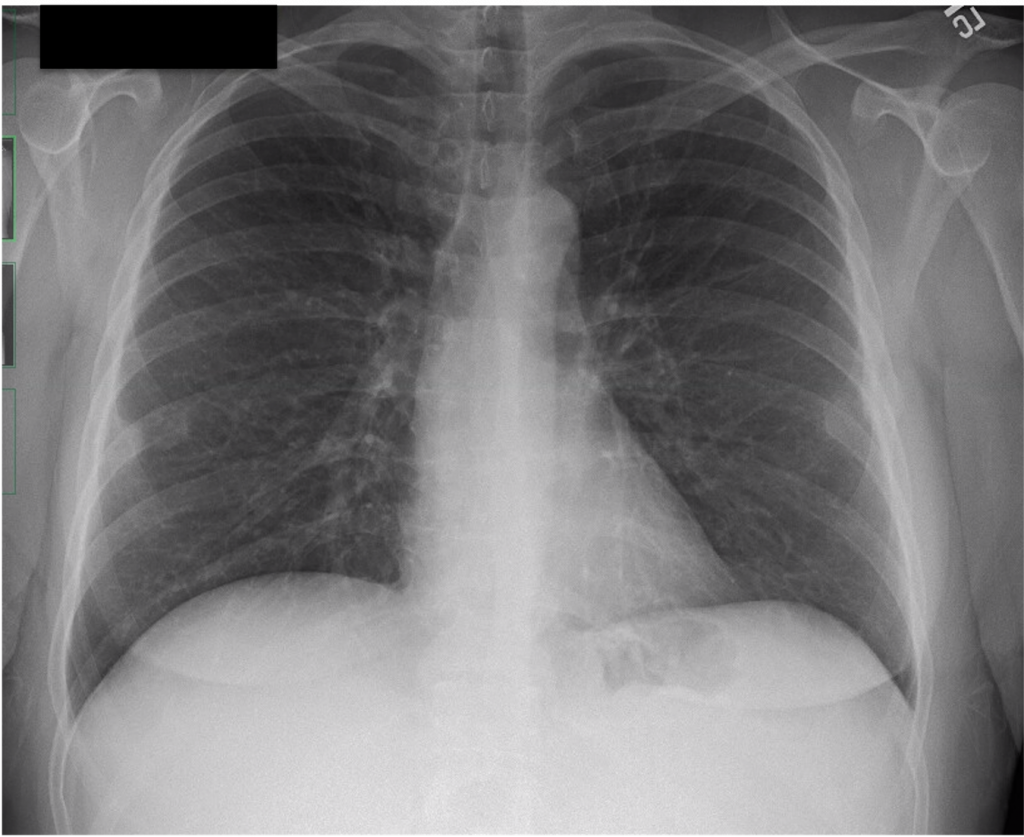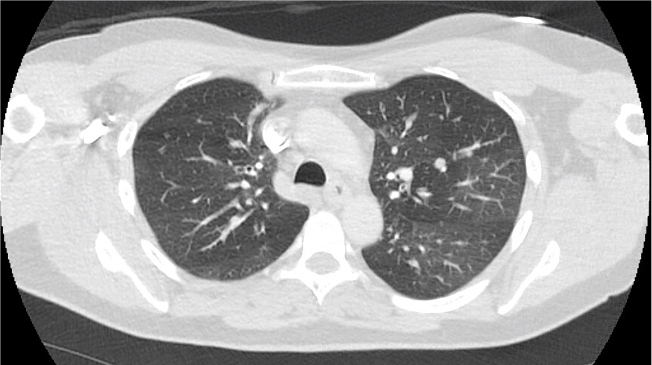 Key Learning Points
**Spoilers Ahead** If you want to think through the case on your own we advise listening to the episode first before looking at these points.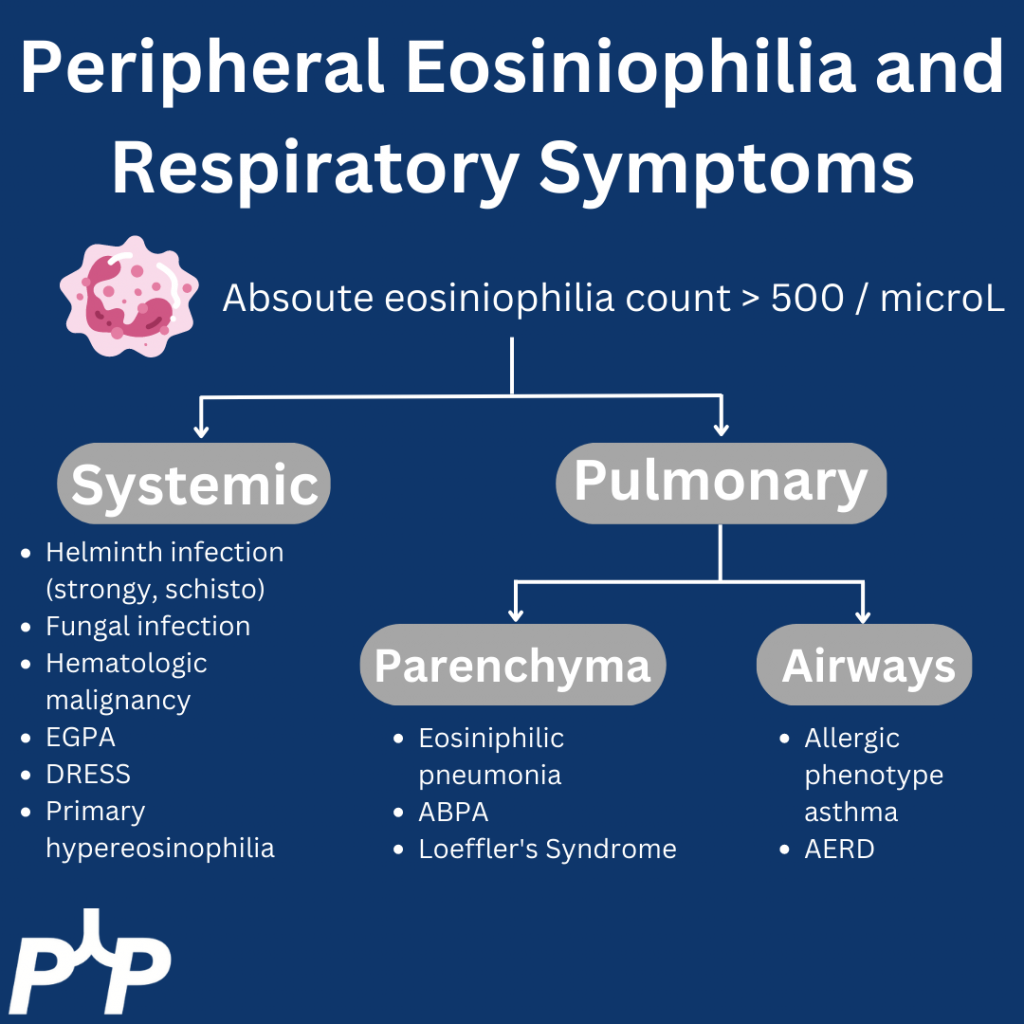 The three most common causes of cough in adults in the USA are cough variant asthma, GERD, and post-nasal drip
A post-viral cough can last for 8-12 weeks and still be within normal
Sinus symptoms in a chronic cough can just be sinusitis and post-nasal drip, but should consider eosinophilic granulomatosis with polyangiitis (EGPA), aspirin exacerbated respiratory disease (AERD), cystic fibrosis, or ciliary dyskinesia.
Examination of a wheeze

Pitch: larger central airways vs lower peripheral airways

Is it throughout the cycle or at a certain phase?

Ask the patient to cough before listening and ask them to breathe out through their mouth

Approach to eosinophilia in a patient with cough and dyspnea

 Multi-system involvement vs lungs

Multi-system involvement

Primary hypereosinophilic syndromes

If you have a high suspicion for airways disease, PFTs should be requested with bronchodilator testing regardless of the degree of obstruction on baseline spirometry
Asthma alone should not cause ground glass opacities, so if see these in a patient with asthma we think about:

Infection, especially atypical infections

Hypogammaglobulinemia or other immunodeficiency

EGPA diagnosis

ANCA testing is only positive in 60% of patients with EGPA so a negative test doesn't rule it out by any means

It is easiest to make a diagnosis when there is a clear small vessel manifestation

Many patients with asthma, nasal polyposis, and high peripheral eosinophilia have EGPA but don't have a clear small vessel feature of vasculitis or a positive ANCA

These patients typically have eosiniophilia a lot higher than when thinking about allergic phenotype asthma alone. As a rule of thumb, at least an absolute eosinophil count > 1000
References and Further Reading
Podcast: Play in new window | Download
Subscribe: Apple Podcasts | Google Podcasts | Spotify | Amazon Music | Android | iHeartRadio | Stitcher | Podcast Index | RSS | More