Pulm PEEPs hosts, Kristina Montemayor and David Furfaro, bring our first episode in our Top Consults series. In this series, we will bring in experts to work through the most common pulmonary and critical care consults. Whether you are the consulting physician, or a pulmonologist responding to the page, these episodes are geared to give you all the information you need to care for your patients!
Today, we are joined by Chris Kapp and Matthew Schimmel, two interventional pulmonologists, to discuss hemoptysis. Chris and Matt will help us work through two hemoptysis consults, and together we'll provide a framework for thinking about hemoptysis, outline some key components of the evaluation, and delve into treatment options.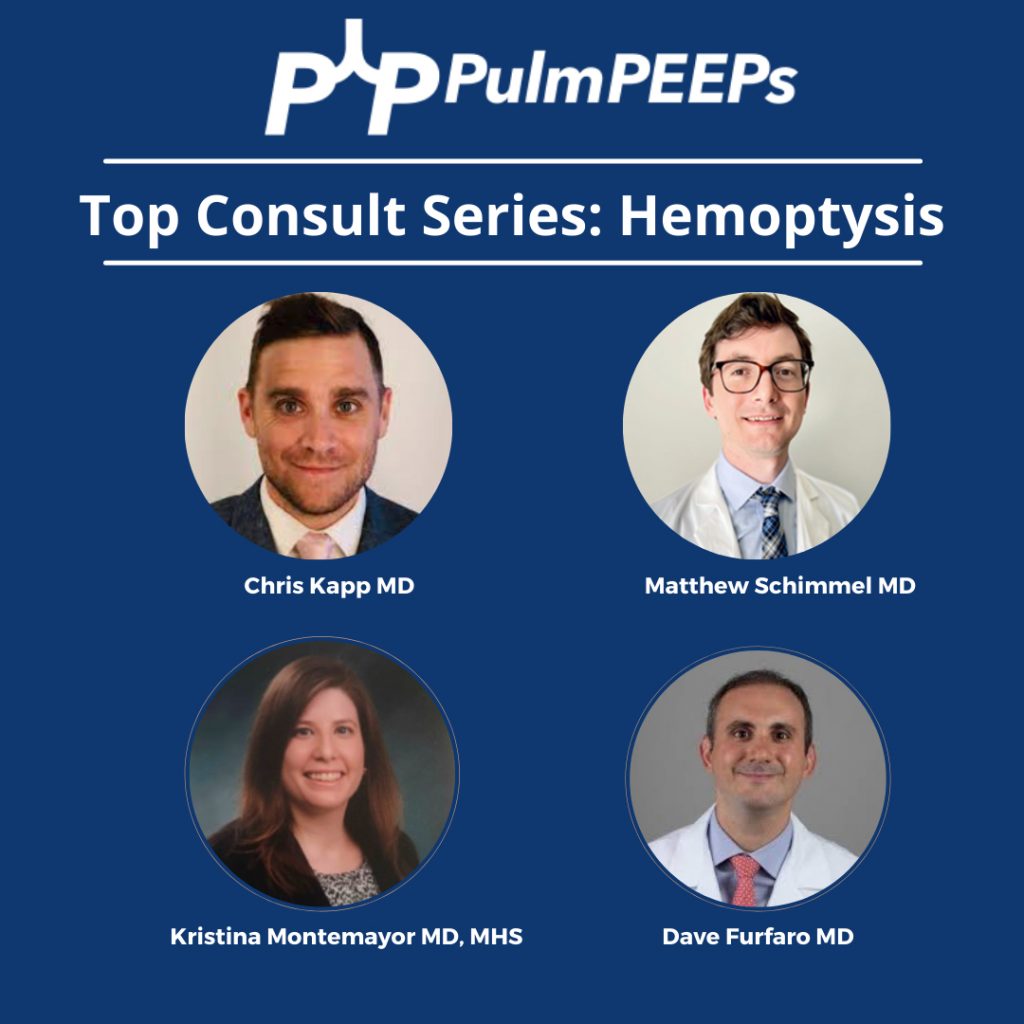 Key Learning Points
Hemoptysis Evaluation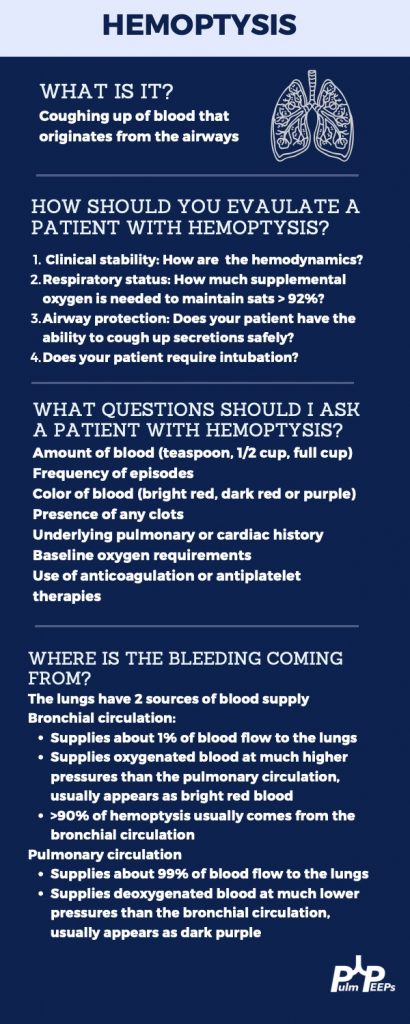 Hemoptysis Management
Life-Threatening or Large Volume Hemoptysis
Stabilize the patient! Make sure the airway is protected either by the patient coughing themselves, or intubation if needed. Provide hemodynamic support with IVF, blood products, and pressors if needed. If it is known which lung has the bleeding the patient can be positioned so

the lung with the bleeding is down.

This protects the non-bleeding lung.
Correct any bleeding diathesis If the patient is on anti-coagulation, or has any reversible bleeding diathesis, these should be corrected immediately to reduce further bleeding.
Localize the bleed If the patient is stable,

they should undergo a CTA to localize the bleeding

. If they are not stable to make it to a CT scan, a bronchoscopy should be performed.
Bronchoscopic treatment In addition to clearing blood from the airway, bronchoscopy can localize the bleeding. With available expertise,

bronchoscopic treatments can be performed such as ice saline, topical epinephrine, or balloon tamponade to isolate the bleed.

Definitive therapy with arteriography and embolization Patients with life-threatening hemoptysis should ultimately undergo arteriography and embolization of any bleeding vessel. If this is not possible, then surgery can be needed in some cases.
A note on diffuse hemoptysis If there is not one distinct bleeding lesion, then localizing and treating the bleed becomes more difficult.

For diffuse alveolar hemorrhage, evaluation should be performed for if it is primary, and due to an immunologic cause and capillaritis, or secondary to a systemic disease and / or bleeding diathesis

. These investigations will guide available treatment options. Capillaritis from an immunologic cause, such as lupus or vasculitis, can be treated with systemic glucocorticoids and an additional immunosuppressive agent such as cyclophosphamide or rituximab.
Non-life-threatening or Small Volume Hemoptysis
Monitor for clinical worsening Patient's should be monitored, either in the in-patient or out-patient setting, for increased volume or frequency of hemoptysis and for any clinical worsening, such as desaturations or decreased ability to clear the airway.
Correct any bleeding diathesis If the patient is on anti-coagulation, or has any reversible bleeding diathesis, these should be corrected immediately to reduce further bleeding. In pattients with non-life-threateneing hemoptysis this requires c

areful consideration of balancing the risk of bleeding vs the benefits for continuing anti-coagulation.

Evaluate for underlying cause Patient's should undergo imaging and evaluation for the underlying cause of the hemoptysis. This may be evidence of an underlying infection, a pulmonary embolism, or new lung lesions making the patient at risk. I

f the source can't be found on non-invasive imaging, and there is no clear systemic source such as an infection, a bronchoscopy is warranted

. Any underlying cause should be treated and investigated further.
Inhaled Tranexamic Acid Nebulized tranexamic acid is well tolerated and can help resolve hemopytysis without invasive procedures.
References and links for further reading
Podcast: Play in new window | Download
Subscribe: Apple Podcasts | Google Podcasts | Spotify | Amazon Music | Android | iHeartRadio | Stitcher | Podcast Index | RSS | More