This week on Pulm PEEPs we are resuming our Top Consults series with a common pulmonary presentation that can range from incidental to life-threatening: pneumothorax. We will talk through three different cases and review assessments and common management strategies. Make sure to subscribe to our show wherever you listen to podcasts, rate and review us, and visit our website to catch up on all our old content.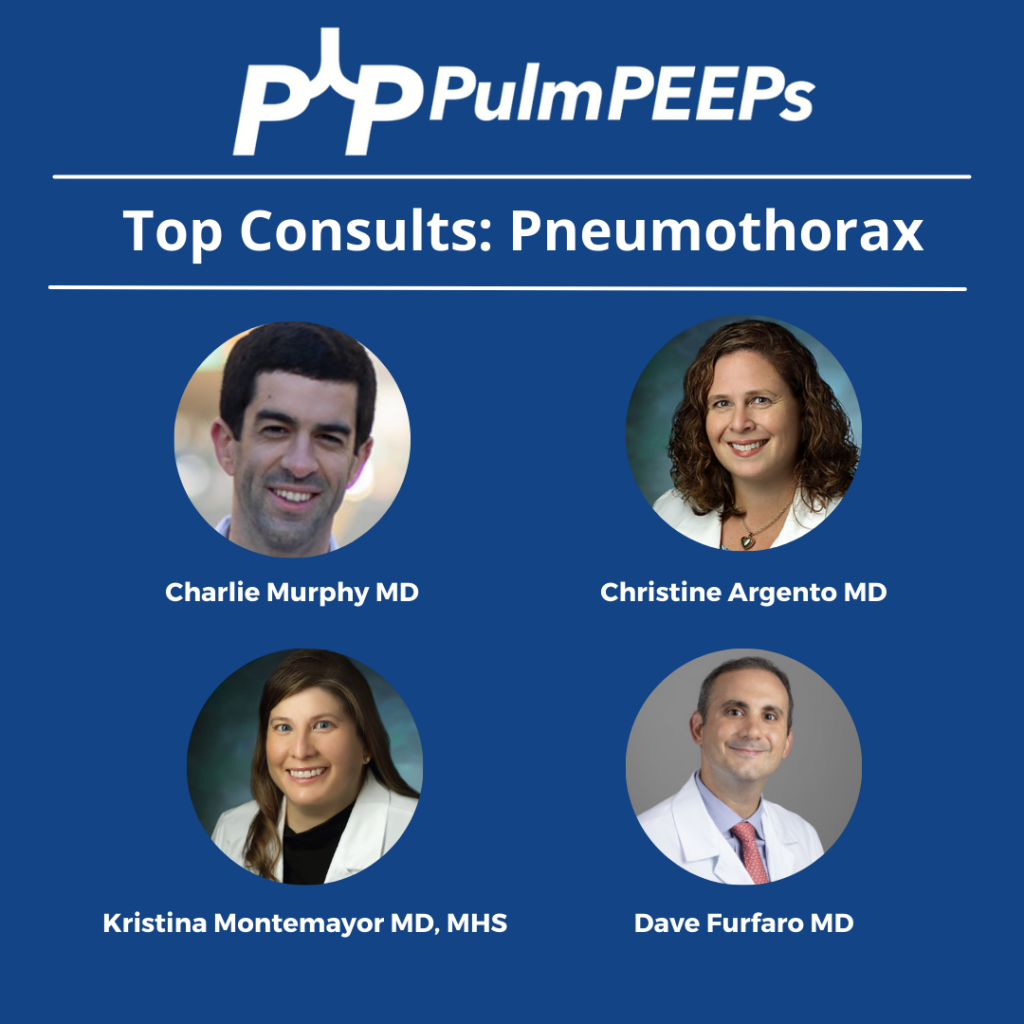 Meet Our Guests
Christine Argento is an Associate Professor of Medicine at Johns Hopkins Hospital and specializes in Interventional Pulmonology.
Charlie Murphy received his medical degree from LSU School of Medicine in New Orleans and completed his internal medicine residency at the Montefiore-Einstein Internal Medicine Residency Program. He is currently a Pulmonary and Critical Care fellow at New York-Presbyterian Hospital / Columbia University Medical Center, where he is one of the chief fellows.
Consult Patients
Barry is a 26-year-old man who came to the emergency department with acute onset of shortness of breath. He is tachypneic to 26, saturating 88% on RA so he was put on NC and is now 95% at 4L, HR 120, BP 145/85. There is only limited history but he reports he has never had anything like this before. His CXR shows a pneumothorax 5cm from the apex.
Larry is a 22-year-old man with normal HR and BP, saturating 96% on RA and breathing 14 x a minute. He has a CXR that shows a small pneumothorax. He has no past medical history and has never had a pneumothorax before, but he is a 1 PPD smoker and smokes marijuana.
Carrie is a 54-year-old woman who has been admitted with a COPD exacerbation. She has a history of emphysema, is not on home oxygen, and came in 2 days ago with worsening dyspnea and increased productive cough. She has been being treated with nebulizers every 4 hours, azithromycin, steroids, and supplemental O2 at 2L NC/ minute and never required NIPPV. This morning she had a coughing spell and significant chest pain and a CXR shows a moderate-sized left-sided pneumothorax. She is on 10L NC now with tachypnea to 26, and HR 105 but stable blood pressure.
Key Learning Points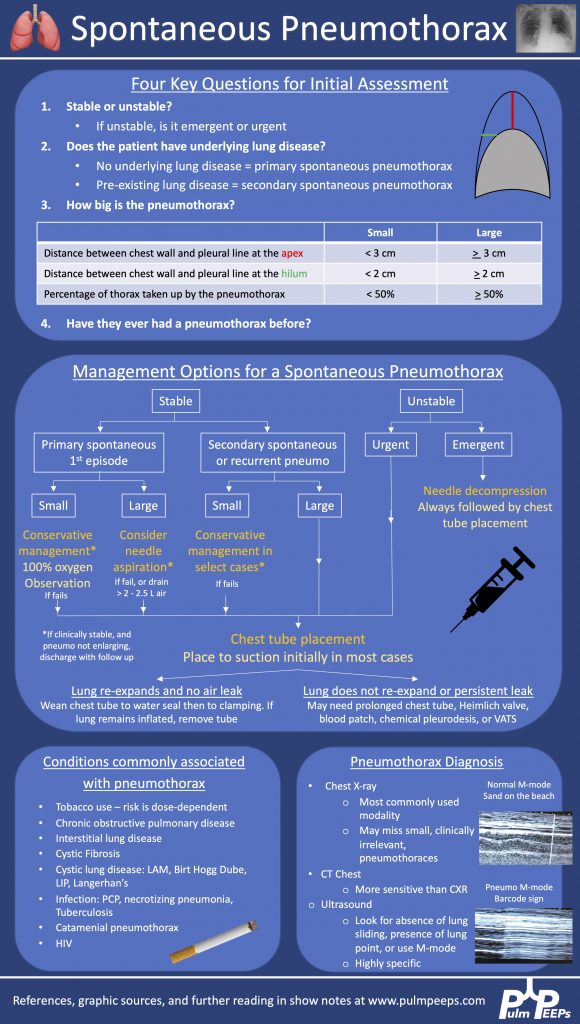 Management options for a persistent air leak
— Conservative management: continue chest tube to suction
— Heimlich valve – can discharge a patient with this valve if they are stable to water seal, but don't tolerate clamping
— Blood patch – inject the patient's own blood into the chest tube to try to heal any pleural defect
— Chemical pleurodesis – inject talc powder, doxycycline, or another substance through the chest tube to cause pleural irritation and closure of the pleural space
— Endobronchial valve – off-label use
— VATS – surgical pleurodesis, resection of blebs
References and links for further reading
Podcast: Play in new window | Download
Subscribe: Apple Podcasts | Google Podcasts | Spotify | Amazon Music | Android | iHeartRadio | Stitcher | Podcast Index | RSS | More