We are thrilled here at Pulm PEEPs to have our first episode with our new Associate Editor Tess Litchman. Tess will walk us through an interesting case presentation of hemoptysis and we'll use the approach from our Top Consults episode on hemoptysis to come to a key pulmonary and critical care diagnosis.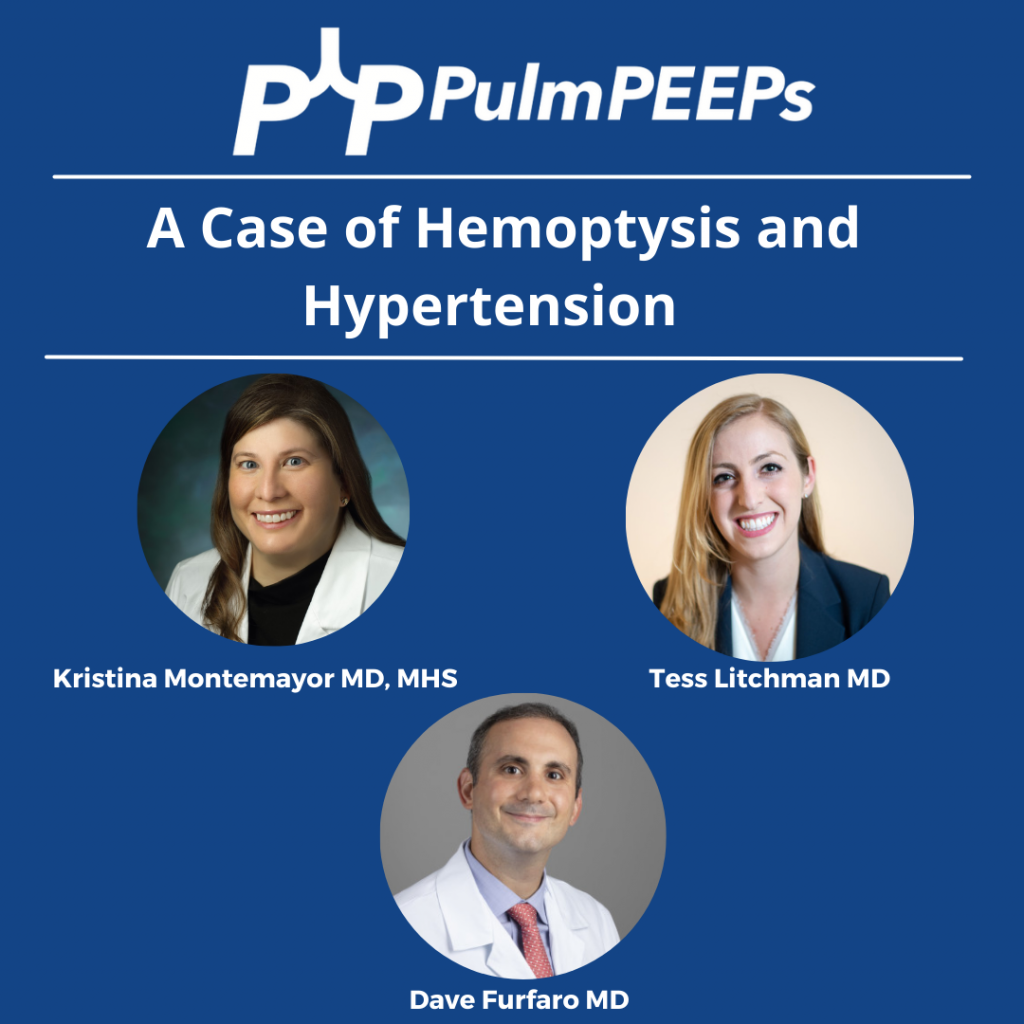 Meet Our Guests
Tess Litchman is a second-year internal medicine resident at Beth Israel Deaconess Medical Center. She received her undergraduate degree from Wesleyan University in Middletown, CT where she studied neuroscience and internal relations. She attended medical school at the Yale School of Medicine in New Haven, CT. She is currently completing her internal medicine residency at BIDMC. She is interested in medical education and pulmonary and critical care medicine.
Patient Presentation
A young man in his 20s presented to the emergency department with one week of cough and small volume hemoptysis. He has been experiencing several episodes of hemoptysis per day during this time. He says he coughs up about 1/4 cup of blood with each episode. He also adds that for the past 2 weeks he also has noticed worsening nausea, vomiting, headaches, and fatigue. He saw his primary care doctor and he was diagnosed with new hypertension and started on clonidine 0.1 mg three times a day, and provided cough medication. However, his symptoms continued. Given the increasing frequency of the hemoptysis and worsening nausea, he presented to the emergency department.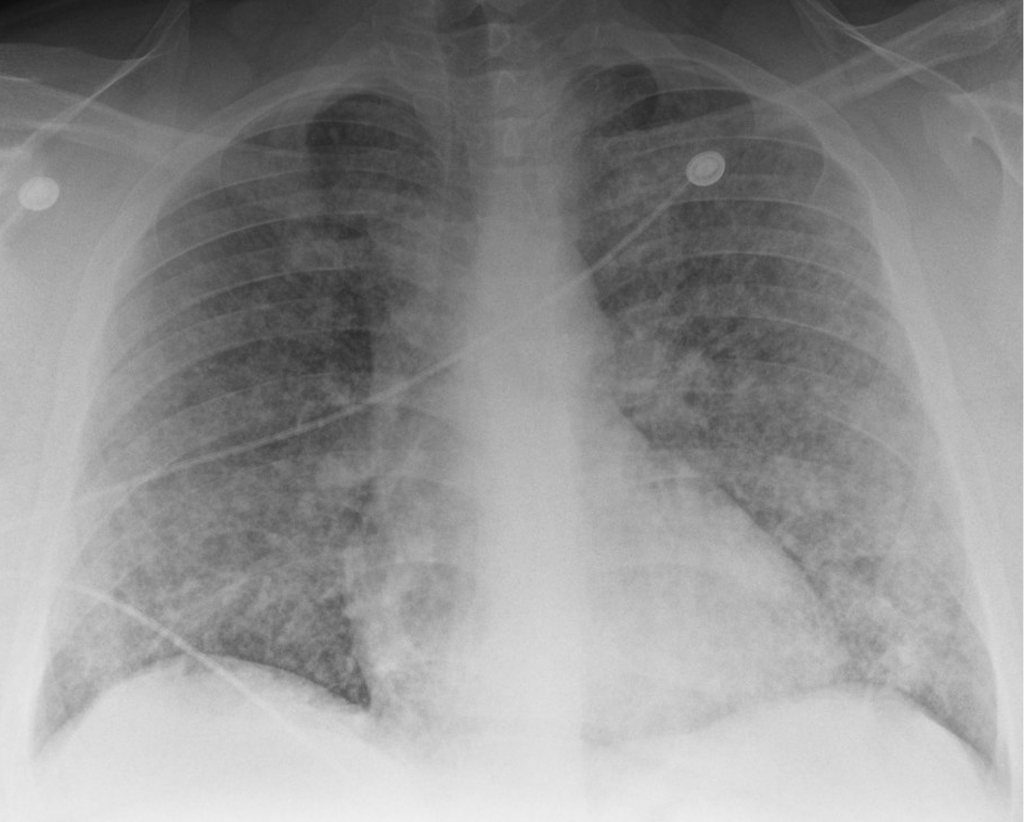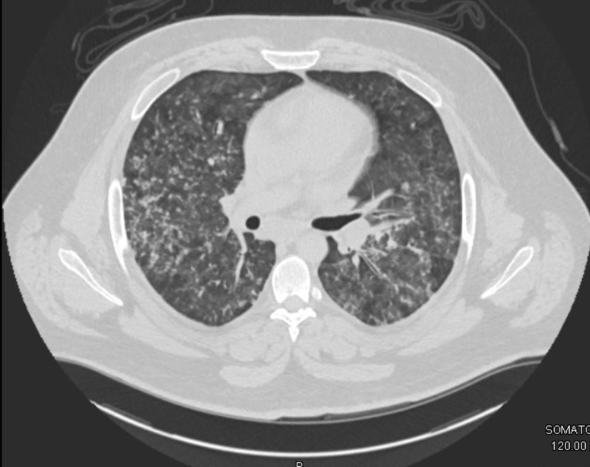 Key Learning Points
**Spoilers Ahead** If you want to think through the case on your own we advise listening to the episode first before looking at the infographics below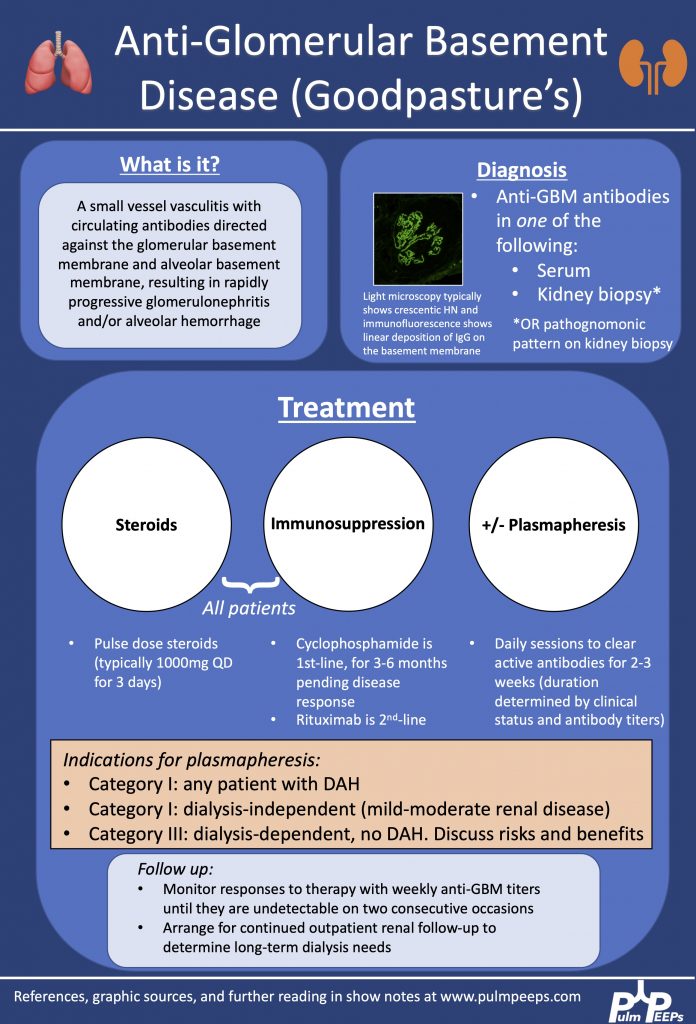 References and links for further reading
Podcast: Play in new window | Download
Subscribe: Apple Podcasts | Google Podcasts | Spotify | Amazon Music | Android | iHeartRadio | Stitcher | Podcast Index | RSS | More