We are thrilled to be back with another episode in our Top Consults series. We are talking about Solitary Pulmonary Nodules, which is something every pulmonologist will encounter in the clinic and on in-patient consults. We go through a number of cases and provide a framework for approaching these cases.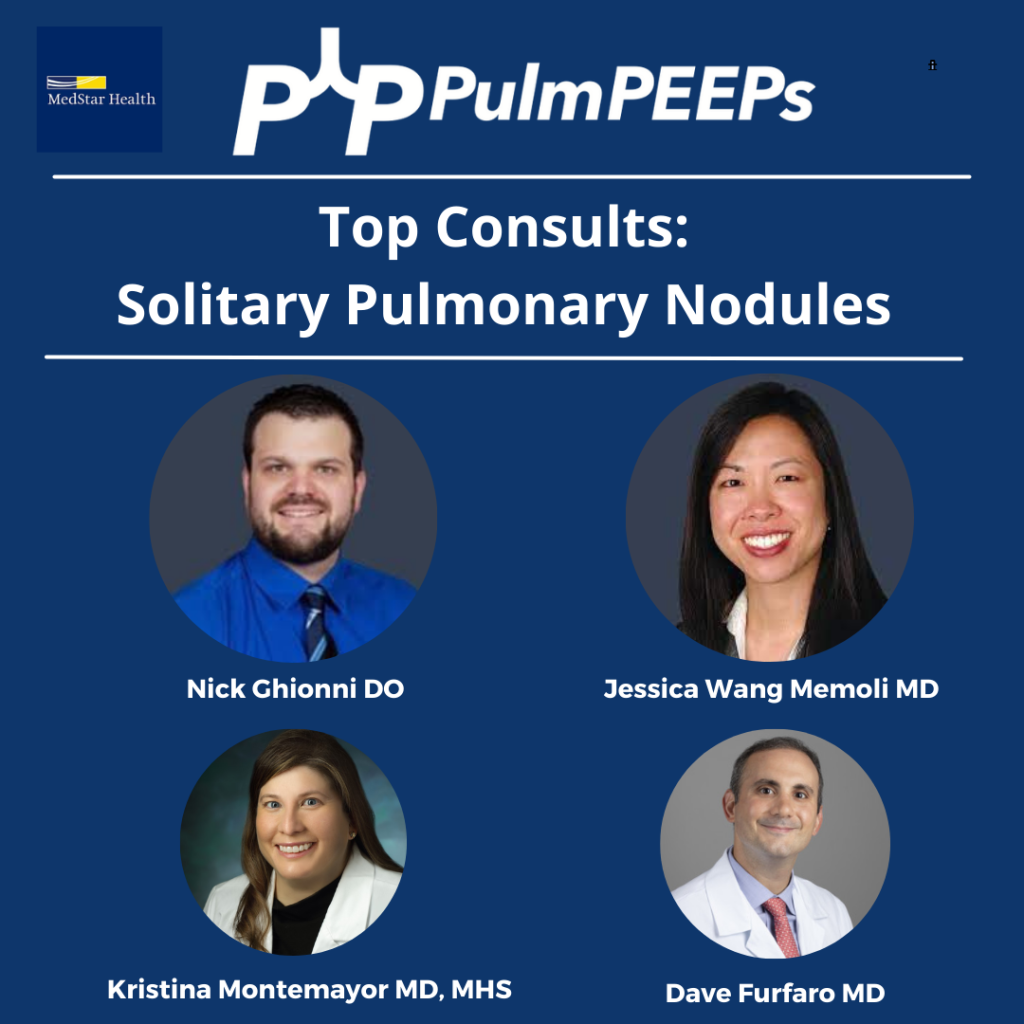 Meet our guests
Dr. Jessica Wang Memoli is board certified in pulmonary disease, critical care medicine and internal medicine. She is the Director of Bronchoscopy and Interventional Pulmonary, as well as the Associate Fellowship Program Director for Pulmonary Critical Care Medicine at the MedStar Washington Hospital Center. Dr. Wang Memoli received her medical degree from the University of Miami Miller School of Medicine. She completed her residency at MedStar Washington Hospital Center and her fellowship training at the Medical University of South Carolina in Charleston.
Dr. Nick Ghionni works at Union Memorial, Good Samaritan, and Franklin Square as an Intensivist and Pulmonologist. He completed his Internal Medicine residency at Mercy Catholic Medical Center in PA serving as Chief Internal Medicine resident. He was a fellow at MedStar Washington Hospital Center where he was the Chief Pulmonary Critical Care Fellow. His specific interests include mechanical ventilation, POCUS, and medical education.
Case Presentations
Case 1:
33 year old woman who came to the emergency department with acute onset of shortness of breath. She states that she had been in her normal state of health until this morning when she developed shortness of breath at rest, and chest pain. She does report a non-productive cough over the last few weeks which she feels may be contributing to her chest pain. She does report a history of asthma during childhood but without any exacerbations or maintenance therapies needed during her adulthood. She does report wheezing when she is sick with a cold but this is infrequent. The ED team sent off an initial work-up including a D-Dimer which was elevated, and she underwent a CTA of the chest for concern for possible PE. On the CT scan, there was no PE but the radiologist did call a "2 mm indeterminate right upper lobe pulmonary nodule."
Case 2:
We have a 67-year-old male with a past medical history of ischemic cardiomyopathy, chronic systolic heart failure (LVEF 10-15%), s/p AICD, diabetes mellitus type 2, hyperlipidemia, hypertension, chronic kidney disease stage III, prostate cancer s/p seed implantation that was over 15 years ago who presented with acute decompensation of his heart failure and cardiogenic shock. He was successfully managed for that and is now being worked up by advanced HF and as a part of that workup got a chest CT, which found a RUL 6 mm nodule.
Case 3:
We have a 66-year-old male with a past medical history of HTN and drug abuse who presented to the ED with acute SOB, likely a COPD exacerbation. He was given bronchodilator and steroids as well as being started on Bipap. He eventually was able to be weaned off Bipap and was able to tolerate nasal cannula. As a part of his initial work up, the patient underwent CT scan for possible PE which demonstrated a new LUL spiculated nodule that is 1.3cm that is new since 2019.
Key Learning Points
Approaching Pulmonary Nodules:
A structured approach is essential due to the complexities of diagnosing pulmonary nodules.
Patient history, including risk factors, past interventions, and imaging, plays a vital role.
Nodules' appearance, such as location, shape, or characteristics like calcification or spiculation, can provide diagnostic clues.
The nodules history on serial imaging is a key predictive risk factor for determining the likelihood that the nodule represents cancer
Tools like the Mayo Risk Calculator and Fleishner Society guidelines assist in risk assessment and guidance.
It's essential to assess patient risk, and nodule risk, and prioritize patient concerns and education. Periodic monitoring or follow-up might be necessary based on the nodule's risk and size.
A multidisciplinary approach involving various specialists ensures comprehensive care.
Key Discussion Points:
PET Scans:
Useful in gauging a nodule or tumor's metabolic activity.
Large, hypermetabolic nodules are suspicious.
Not every positive PET result means malignancy; other causes like inflammation or scars can produce positive results.
Evaluating Nodules:
Consideration of nodule size, characteristics, patient history, and risk calculators is crucial.
Tumor boards provide a collaborative expertise approach.
Tissue Sampling & Testing:
The method of tissue sampling depends on resources and expertise.
CT-guided biopsy offers a high diagnostic yield but with a risk of pneumothorax.
Bronchoscopic biopsy provides a lower diagnostic yield than CT-guided biopsy but has a significantly reduced risk of complications.
Advanced diseases now often require molecular testing on tissue samples.
Ground Glass Nodules:
Different from solid nodules due to their slow growth rate.
Monitoring is crucial due to the potential for transformations raising cancer suspicions.
The approach for ground glass nodules typically involves more extended monitoring intervals than for solid nodules.
Holistic Evaluation:
Consider the nodule's characteristics, the patient's history, and clinical intuition.
Individualized patient assessment is as vital as evidence-based guidelines and clinical expertise.
See the infographic for a summary of key learning points: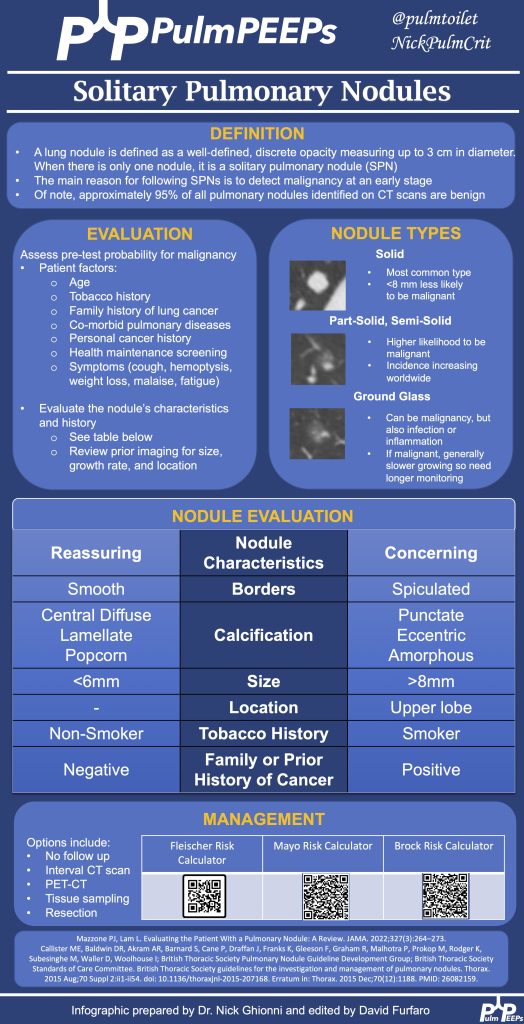 References and further reading
Loverdos K, Fotiadis A, Kontogianni C, Iliopoulou M, Gaga M. Lung nodules: A comprehensive review on current approach and management. Ann Thorac Med. 2019 Oct-Dec;14(4):226-238. doi: 10.4103/atm.ATM_110_19. PMID: 31620206; PMCID: PMC6784443.
Mazzone PJ, Lam L. Evaluating the Patient With a Pulmonary Nodule: A Review. JAMA. 2022 Jan 18;327(3):264-273. doi: 10.1001/jama.2021.24287. PMID: 35040882.
MacMahon H, Naidich DP, Goo JM, Lee KS, Leung ANC, Mayo JR, Mehta AC, Ohno Y, Powell CA, Prokop M, Rubin GD, Schaefer-Prokop CM, Travis WD, Van Schil PE, Bankier AA. Guidelines for Management of Incidental Pulmonary Nodules Detected on CT Images: From the Fleischner Society 2017. Radiology. 2017 Jul;284(1):228-243. doi: 10.1148/radiol.2017161659. Epub 2017 Feb 23. PMID: 28240562.
Wahidi MM, Govert JA, Goudar RK, Gould MK, McCrory DC; American College of Chest Physicians. Evidence for the treatment of patients with pulmonary nodules: when is it lung cancer?: ACCP evidence-based clinical practice guidelines (2nd edition). Chest. 2007 Sep;132(3 Suppl):94S-107S. doi: 10.1378/chest.07-1352. PMID: 17873163.
Godoy MC, Sabloff B, Naidich DP. Subsolid pulmonary nodules: imaging evaluation and strategic management. Curr Opin Pulm Med. 2012 Jul;18(4):304-12. doi: 10.1097/MCP.0b013e328354a5f2. PMID: 22575798.
Hammer MM, Hatabu H. Subsolid pulmonary nodules: Controversy and perspective. Eur J Radiol Open. 2020 Sep 4;7:100267. doi: 10.1016/j.ejro.2020.100267. PMID: 32944597; PMCID: PMC7481135.
Podcast: Play in new window | Download
Subscribe: Apple Podcasts | Google Podcasts | Spotify | Amazon Music | Android | iHeartRadio | Stitcher | Podcast Index | RSS | More