We're diving back into some pleural fluid today (okay that is kind of gross to think about and we apologize). If you haven't listened to our prior pleural effusion episodes and want to start from the top, then check out Episode 36 for a general approach to pleural effusions, and Episode 37 to hear about parapneumonic effusions. Malignant effusions are another common consult question and we'll talk about everything from detection to monitoring, to definitive management.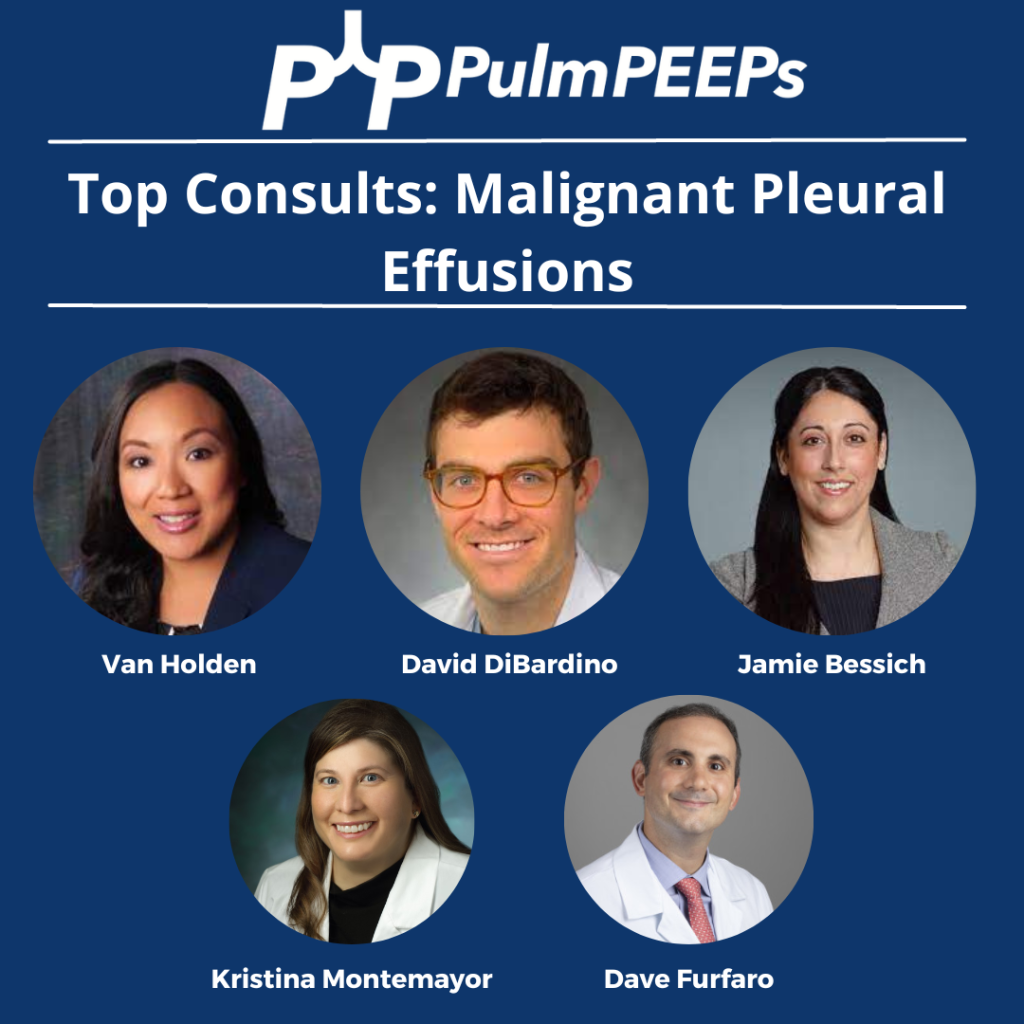 Meet Our Guests
Dr. David DiBardino is an Assistant Professor of Medicine at the University of Pennsylvania Medicine and is the Associate Director for Clinical Research within the Section of Interventional Pulmonology. He is also the Program Director for the Interventional Pulmonary Fellowship there.
Dr. Jamie Bessich is an Assistant Professor of Medicine and Cardiothoracic Surgery at NYU Grossman School of Medicine. She is the Section Chief of Interventional Pulmonology and is the Director of Bronchoscopy at Tisch Hospital.
Dr. Van Holden is an Associate Professor of Medicine at the University of Maryland School of Medicine and is the Pulmonary and Critical Care Fellowship Program Director there. She was last on the show for our very first Fellows' Case Files when we discussed a fascinating case of pulmonary alveolar proteinosis.
Case Presentation
The page: 72M smoker, new effusion, concern for malignancy, tap?
Further history: 72 year old man with PMH of GOLD B COPD, tobacco use (55 pack years), HTN, HLD, and diabetes. He presented to the ED with progressive dyspnea and fatigue. He is on LAMA/LABA for his COPD, and he does not frequently have exacerbations. He has no increased sputum production or wheezing, but he has been feeling progressively fatigued and lethargic. H Over the past few weeks he has had more dyspnea on exertion, and now has it at rest too. It is a bit worse when he lies flat. He has had no weight gain or edema in his legs and has actually lost 10-15 pounds in the last 3 months. In the ED, he is newly requiring 3-4L NC, has decreased breath sounds on the right, and a CXR shows a large right-sided pleural effusion, as well as a large apical nodule with some spiculation, both of which are new from prior.
Key Learning Points
Causes of malignant pleural effusion
–Lung cancer is the most common in men
–Breast cancer is the most common cause in women
–Lung and breast cancer account for > 50% of all malignant pleural effusions
–Other less common causes are lymphoma, GU or GI tract cancer
–Remember to consider mesothelioma
Prognosis of MPE
–Malignant pleural effusion means the cancer is advanced and stage 4 by definition
–The average life expectancy after a diagnosis of MPE is 3-12 months, depending on the patient and the malignancy
Imaging and MPE
–Make sure to get a CT scan after drainage so no lesions are missed
–Ultrasound can be helpful to look for disruptions of the pleural line, loculated fluid, or pleural nodules
Pleural fluid analysis
–Make sure to send common labs (gram stain, culture, pH)
–Cell count is very important as most MPE are lymphocyte-predominant
–Triglycerides can be helpful as well (more on chylothorax in future episodes)
–Cytology is essential and makes the diagnosis. The sensitivity is 65 – 75 percent so repeat taps may be needed and you need to send at least 60 cc of fluid (often more)
–If you have high suspicion and no diagnosis after two taps, pleuroscopy and pleural biopsy is warranted
Management of MPE
–First you need to determine if the MPE is recurrent. This requires drainage and then monitoring
— The main options are repeat thoracenteses, pleurodesis, or indwelling pleural catheter. A combination can often be used, and shared decision making is essential to the determining the best option
–The three things to consider with recurrent malignant pleural effusion are:
Did the patient feel better after drainage?
Did the lung fully re-expand?
What is the best option for this specific patient to optimize quality of life and time outside of the hospital?
–In AMPLE, pleural cetehters and talc pleurodesis were compared, and both are reasonable options with equivalent outcomes on quality of life; although pleural catehters had fewer hospital days overall.
References and Further Reading
Podcast: Play in new window | Download
Subscribe: Apple Podcasts | Google Podcasts | Spotify | Amazon Music | Android | iHeartRadio | Stitcher | Podcast Index | RSS | More