We are thrilled today here at Pulm PEEPs to be coming to you live from the American Thoracic Society 2023 Annual Meeting. We are joined by three fantastic speakers, and ATS leaders to discuss the highlights and events of the conference, and to share some great learning points along the way. The episode is being released immediately after recording today, Monday 5/22/23, so if you're at the conference now make sure to listen for some extremely timely recommendations. If you're not here in DC, we've highlighted some learning points that you can take away and some wisdom on how to maximize your conference experience!
We will be coming out with another episode tomorrow highlighting one of the ATS sessions, and we will continue to review symposiums from the conference throughout the year with ATS members and organizers.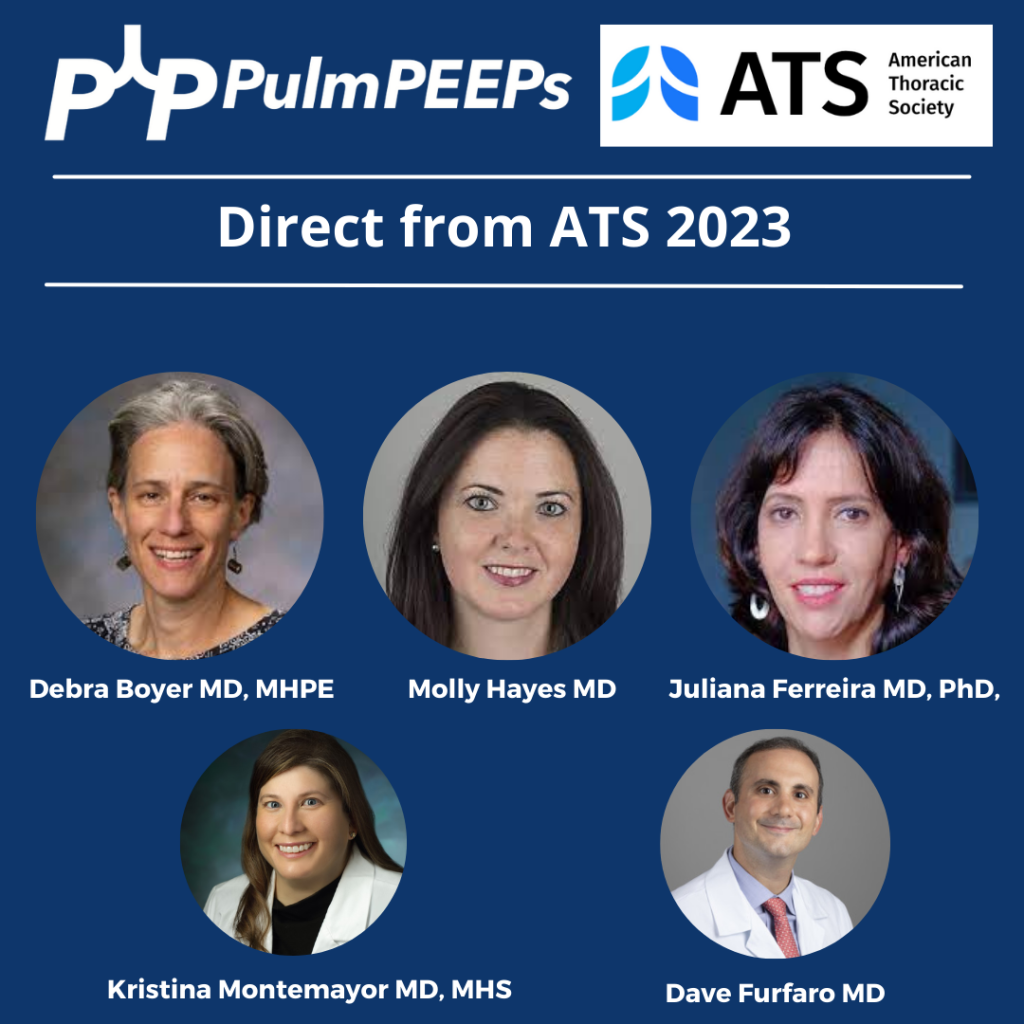 Meet The Guests
Debra Boyer is a Pediatric Pulmonologist at Nationwide Children's Hospital and has devoted much of her career to her patients and numerous trainees. Debra has been extensively involved with ATS as a prior chair of the Education Committee, and the Assembly on Pediatrics Planning Committee, and is currently on the Board of Directors and current Co-Chair of the ATS International Conference Committee.
Molly Hayes is an Assistant Professor of Medicine at Beth Israel Deaconess Medical Center and Harvard Medical School, the Director of the MICU at BIDMC, and the Director of External Education at the Carl J Shapiro Institute for Education and Research. She is also a course director for a yearly CME course on principles of critical care medicine run by BIDMC and HMS. Molly has been extensively involved with ATS as well and has served on the Education Committee, currently as a vice chair, chairs the Core Curriculum for the conference, is the chair for the Subcommittee on Education in Critical Care for the Critical Care Assembly's Programming Committee, and has been very involved in the Section of Medical Education for the last several years.
Julianna Ferreria is an Associate Professor of Pulmonary and Critical Care Medicine at the University of Sao Paulo Medical School in Brazil, and her work focuses on mechanical ventilation. She has made a significant impact on global health initiatives and serves as the Co-Director of the MECOR program in Latin America for ATS. Julianna has also been extremely involved with ATS Critical Care Assembly Program Committee and was just awarded the Inaugural Philip Hopewell Prize for her commitment to research in low and middle-income countries.
Podcast: Play in new window | Download
Subscribe: Apple Podcasts | Google Podcasts | Spotify | Amazon Music | Android | iHeartRadio | Stitcher | Podcast Index | RSS | More