This week on Pulm PEEPs, Dave and Kristina are joined by Jason Maley and Ann Parker, two pulmonary and critical care physicians who are leaders in treating patients with Long COVID, or Post-Acute Sequelae of SARS-CoV-2. Both of them help run the Long COVID clinics at their respective institutions and are part of broader consortiums dedicated to patient care. They also both participate in research to improve outcomes for patients with Long COVID and Post-Intensive Care Syndrome. In this conversation, we cover the diagnosis of Long COVID, common symptoms, abnormal test findings, possible mechanisms of disease, the impacts of variants and vaccines, treatments, and the natural history of this condition. We hope this will be helpful for providers, patients, and family members.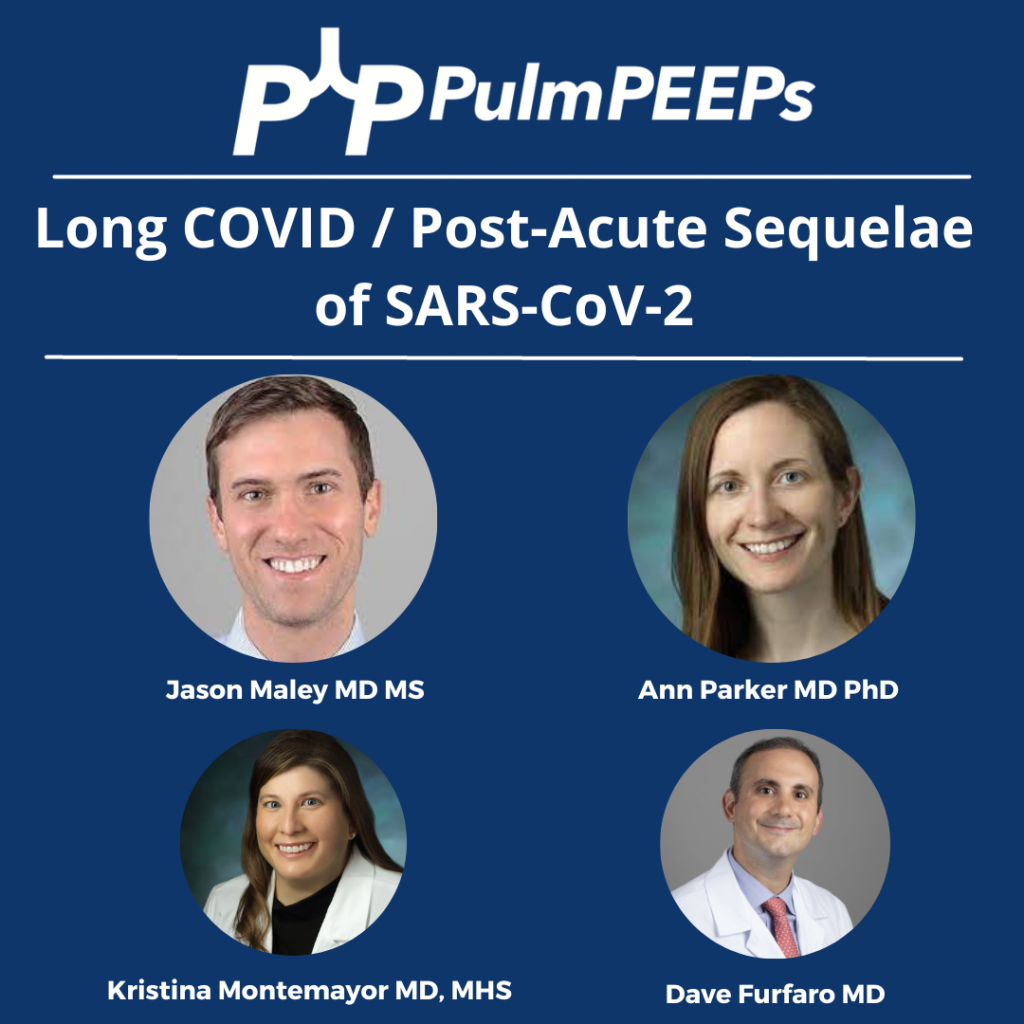 Meet Our Guests
Jason Maley is an Assistant Professor of Medicine at Beth Israel Deaconess Medical Center and Harvard Medical School. He is the Director of the BIDMC Critical Illness and COVID-19 Survivorship Program, and the Co-Chair of the American Academy of Physical Medicine and Rehabilitation Postacute Sequeleae of SARS-CoV-2 infection (PASC) initiative. He is NIH funded to study post-COVID patients.
Ann Parker is an Assistant Professor of Medicine at Johns Hopkins and is the Co-Director of the Johns Hopkins Post-Acute COVID-19 team. She is NIH funded with her research focusing on survivors of respiratory failure and critical illness.
Key Learning Points
Long COVID or Post-Acute Sequelae of SARS-CoV-2 or Post-COVID condition
Long COVID was first described this way by patients so this is the common nomenclature that is used. It is also referred to as Post-Acute Sequelae of SARS-CoV-2 or Post-COVID condition
Defined by patients that have not returned to their baseline health 3 months after their acute episode of COVID-19
Major organizations in describing this disease and doing research are:

World Health Organization

Multiple patient-led organizations
Post-COVID Clinic
Seeing patients across the spectrum of illness. Not all patients had to be critically ill or hospitalized

The standard patient has changed over time and now the vast majority had a mild initial illness, but afterward had unusual and persistent symptoms

Patients are generally referred by their PCP or self-referred
The criteria for being seen in clinic are very loose to make sure patients are not excluded

Many patients do not have a confirmed case of COVID since patients early in the pandemic often did not have a positive test available, and now many people are testing positive at home

Initial records review to make sure that can help patients
Standardized questionnaires

Screening for physical impairment, mental health impairment, and cognitive impairment

Rehabilitation and multi-disciplinary based approach
It is extremely important to be aware of the bias in patient populations in Post-COVID clinics

The population that can make it to clinic may not, and does not, represent all patients who have had COVID or have Long COVID. Patients may be limited in their ability to get to clinic based on their physical condition, financial resources, location, support, and language barriers.
Overlap of Long COVID and PICS
These conditions are very similar and certainly have a lot of overlap
For patients coming out of the ICU, screening should start with looking for known PICS symptoms.

These domains are mental health, physical impairment, and cognitive function

There may be some unique aspects, such as:

Severe persistent fatigue

Extreme changes in taste and smell
Common symptoms
Many symptoms are complex and multifactorial
Neuropsycholgoicl impairment – termed "brain fog"

Difficulty with concentration, and cognition

Anxiety
Depression
Persistent shortness of breath

Dyspnea can be reported even with just talking for long periods of time

"Deep breaths are just not satisfying"

Cough
Chest pain
Dysautonomia

Palpitations, dizziness, orthostasis

Fatigue
Post-exertional malaise
Cognitive blunting or "brain fog"
Changes in sleep
Headaches
Common findings on testing in patients with Long COVID
Shortness of breath

Some may have impaired diffusion (low DLCO) on PFTs

However, often patients have normal or near-normal PFTs

10 – 20 % have air trapping on inspiratory/expiratory chest CTs that could indicate bronchiolitis

One study showed that CPETs showed impaired oxygen extraction

Preserved cardiac output to exercise and no evidence of deconditioning

This study indicated an issue at the peripheral level (ex: vascular, mitochondrial) with oxygen extraction.
Variants
It is very difficult to say if variants differ in rates of Long COVID given that often patients do not get sequencing to know the variant and because there is overlap in the timing of variants
Further testing will continue on this going forward
Vaccines
Reduced risk of Long COVID with vaccination

Boosting further decreases the risk compared to just the initial vaccination

There is a variable response to getting vaccinated if a patient has Long COVID

Most patients tolerate it well and some patients have relief of symptoms

There are some patients who can develop worsened Long COVID symptoms
References and further reading
Chippa V, Aleem A, Anjum F. Post Acute Coronavirus (COVID-19) Syndrome. In: StatPearls. StatPearls Publishing; 2022. Accessed November 14, 2022. http://www.ncbi.nlm.nih.gov/books/NBK570608/
Crook H, Raza S, Nowell J, Young M, Edison P. Long covid—mechanisms, risk factors, and management. BMJ. 2021;374:n1648. doi:10.1136/bmj.n1648
Durstenfeld MS, Sun K, Tahir P, et al. Use of Cardiopulmonary Exercise Testing to Evaluate Long COVID-19 Symptoms in Adults: A Systematic Review and Meta-analysis. JAMA Network Open. 2022;5(10):e2236057. doi:10.1001/jamanetworkopen.2022.36057
Nalbandian A, Sehgal K, Gupta A, et al. Post-acute COVID-19 syndrome. Nat Med. 2021;27(4):601-615. doi:10.1038/s41591-021-01283-z
Soriano JB, Murthy S, Marshall JC, Relan P, Diaz JV. A clinical case definition of post-COVID-19 condition by a Delphi consensus. Lancet Infect Dis. 2022;22(4):e102-e107. doi:10.1016/S1473-3099(21)00703-9
Sudre CH, Murray B, Varsavsky T, et al. Attributes and predictors of long COVID. Nat Med. 2021;27(4):626-631. doi:10.1038/s41591-021-01292-y
Podcast: Play in new window | Download
Subscribe: Apple Podcasts | Google Podcasts | Spotify | Amazon Music | Android | iHeartRadio | Stitcher | Podcast Index | RSS | More